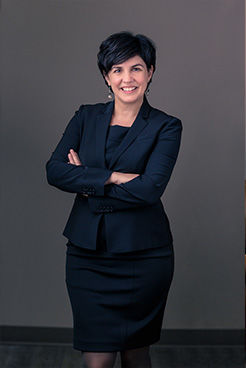 Mary Chartier
A "pitbull in high heels" and "Mike Tyson in the courtroom" are just a few of the names that clients have given Mary over the years. Mary's advocacy skills are the result of years of experience litigating serious and complex criminal defense cases in federal and state courts around Michigan.
Mary has successfully defended clients in numerous federal and state trials, including winning a full acquittal in a federal drug dealing and money laundering case where every other co-defendant entered a guilty plea and dozens of witnesses testified against the client. In the end, Mary convinced the jury that the government had not met its very high burden of proof, and the client heard "not guilty" across the board. Mary has also achieved "not guilty" verdicts in many other cases. One case involved an attempted murder in which the government called numerous witnesses, but the jury believed the client that the shooting was in self-defense. Another case involved multiple counts of criminal sexual conduct in which two complainants testified. No offer was made because the government believed its case was so strong – the government was clearly wrong when the jury came back with its "not guilty" verdicts. Another recent victory came after a retrial for a man who had been wrongfully imprisoned for nine years for crimes he did not commit. The jury was only out for 19 minutes before returning their "not guilty" verdicts.
Mary's criminal defense experience is extensive. She has served as lead counsel in numerous cases. She has represented clients accused of white collar crimes, such as health care fraud, mortgage fraud, and money laundering, as well as clients accused of drug dealing, terrorism, crimes against the United States, bank robbery, criminal sexual conduct, and homicide. She has litigated and won numerous motions, including recently obtaining a dismissal in a felony drug case in which the police illegally entered the client's home.
Mary has also had numerous appellate successes, including winning three cases at the Michigan Supreme Court in one year. One of these successes resulted in the release of a man wrongfully convicted of homicide. She also won the medical marijuana case of People v Koon at the Michigan Supreme Court, and she recently convinced the Court of Appeals to reverse the conviction of a man wrongfully convicted of criminal sexual conduct.
She has successfully handled a number of medical marijuana cases throughout the state, and Mary created and taught the nation's first marijuana law class at a law school.  She is a nationally recognized speaker having taught criminal defense, constitutional law, and evidence at conferences held in Cambridge, Orlando, Aspen, and Key West to name just a few. In Michigan, Mary has presented extensively, including for the Michigan Judges Association, the Criminal Defense Attorneys of Michigan, the State Bar of Michigan, the Institute for Continuing Legal Education, and the highly regarded Hillman Advocacy Program, which provides federal courtroom training to trial lawyers and is sponsored by the United States District Court for the Western District of Michigan.
Mary was received numerous awards, including being named one of Michigan Lawyers Weekly's "Leaders in the Law" in 2018 and one of the top "Women in the Law" in 2013. She also received the Distinguished Barrister's Award in 2018 by the Davis-Dunnings Bar Association. In addition to her legal background, Mary has over seven years of management experience running a multi-million dollar non-profit organization and supervising a staff of over 250 members in two states.
Before working in private practice as a criminal defense litigator, Mary worked at the Michigan Supreme Court for Justice Michael F. Cavanagh, as well as at the Court of Appeals. Mary is truly passionate about defending people who are accused by the government, and she works as an assertive advocate for all her clients.
Honors and Recognitions
Merit Panel Selection Committee, Western District of Michigan, Federal Public Defender, 2015
Merit Panel Selection Committee, Western District of Michigan, Federal Magistrate Judge, 2014
Michigan Association of OWI Attorneys, Board Member
Marijuana Law Section, Chairperson, State Bar of Michigan
Ingham County Bar Association, President
American Bar Association Law Practice Management Education Committee
Executive Council, State Bar of Michigan, Animal Law Section
Advisor and Chairperson, State Bar of Michigan Membership Services Committee
Judge, Michigan Youth in Government Judiciary Program
Ingham County Bar Association, Meet the Judges Committee Chairperson
Inns of Court, Michigan State University College of Law
Board of Directors, American Civil Liberties Union, Lansing
55th District Court, Court-to-School Attorney and Speaker
Phi Delta Phi International Legal Fraternity
American Bar Association Advisory Panel Member
Michigan Court Forms Committee, Child Protective Proceedings and Juvenile Guardianship Work Group
Volunteer Mediator, Resolution Services Center
Mediation Trainer, Michigan State Court Administrative Office
Ask A Lawyer, Ingham County Bar Association
Lansing Area AIDS Network Board Member
American Bar Association, Women Rainmakers Committee
American Bar Association, Education Committee
Ingham County Bar Association, Sponsorship Committee Chairperson
Family Defense Attorneys of Michigan – Representing Parents Accused of Neglect and Abuse
Chartier & Nyamfukudza PLC
2295 Sower Boulevard
Okemos,
MI
48864
Phone: (517) 885-3305
Fax: (517) 885-3363