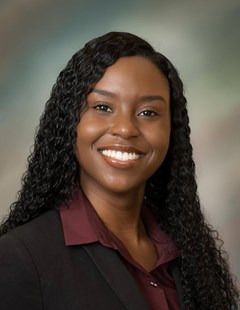 Ernscie Augustin
Ernscie Augustin is an attorney at Chalgian & Tripp Law Offices, PLLC. Ms. Augustin practices in the areas of elder law and estate planning, including probate litigation. Her cases include contested guardianship and conservatorship matters, will and trust contests and litigation arising out of the exploitation of vulnerable adults. Ms. Augustin serves on several committees and council roles, including:
Board of Directors and Secretary for the Ingham County Bar Association Young Lawyers Section (ICBA-YLS)
Vice President for the Davis Dunnings Bar Association
Board of Directors for Michigan Center for Civic Education
Member of the Probate and Estate Planning
Section of the State Bar of Michigan
Member of the Ingham County Probate and Trust Section
Member of Greater Lansing Estate Planning Council (GLEPC)
Member of Michigan State University Inn of Court
In 2019, Ms. Augustin was the recipient of the Davis Dunnings Rising Star Award and in 2020 the Presidents Award. In 2020, she was the recipient of the "Top 5 Under 35" Award from the Ingham County Bar Association. In her free time, Ms. Augustin enjoys spending time with family and traveling.